At St Edmunds we are committed to the welfare and academic success of our students and aim to make sure that every member of the College is appropriately supported.
Tutorial Office 
The Tutorial Office runs Students Services which can be found in the building with the red door opposite the Richard Laws Building. The Head of the Tutorial Office and the Educational Services Administrators  are responsible to the Senior Tutor for all administrative work concerning matriculation, graduation congregations, examination entries and results, tutorial awards and supervision reports. The Tutorial Office should be the first point of contact for the Director of Education, Praelector and Tutors.
Tutors
All students at St Edmund's, both undergraduates and postgraduates, are assigned a Tutor who is responsible for their general welfare and is the first port of call for help and advice relating to the College.
The role of the Tutor is to provide all-round support and guidance on any aspect of student life; student welfare, financial worries, health issues or maybe to respond with enthusiasm and encouragement to an extra-curricular activity you might be planning and possibly help guide you towards funding opportunities.
Tutors are a student's main point of contact with the College on many issues, and listed below are some of the ways in which they regularly provide help:
Introducing and welcoming new students to Cambridge and College life
Contact for all health matters and problems
Provision of advice on financial issues – budgeting, hardship, delayed loan payments, funding
Examinations – special arrangements for examinations, appeals/complaints
Change of course, intermission, disregarding terms
Advice on study methods and support in the event of difficulties with courses or supervisors.
Health & Fitness
Your physical health is just as important as your mental health. The college offers a fitness centre/gym for all college students which is located in the main building.  For more information visit the facilities page. The College also has a dedicated nurse. More information is available here.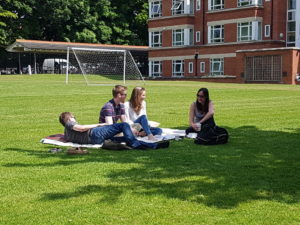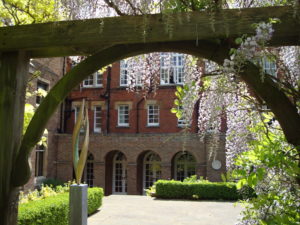 Our beautiful college gardens and orchards which are home to a number of wildlife are there for you to use. Many of our students enjoy studying and relaxing in the gardens.
Students will disabilities 
The college works with the Accessibility and Disability Resource Centre (ADRC) to ensure disabled students receive appropriate support. For further information advisors at ADRC are here to help and support you.