Dining Hall
The main dining hall is a focal point for the College. Members are encouraged to take meals in College as often as possible, to aid in the fostering of the community spirit that is so much a part of College life.
The kitchen is open every weekday. During term time we are open for cooked breakfast from 8.30am until 9.30am and on Saturdays we are open for brunch from 11-12.30pm. Informal evening supper is served Monday to Friday 6.30-7.45pm throughout term time.
The menu 
The college offers a choice of hot food, sandwiches, soup, salads and pudding including vegetarian and vegan options. View a sample menu here.
Formal dinners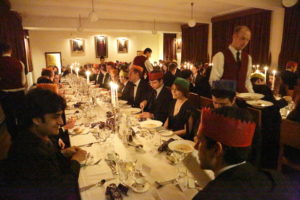 Formal dinners, of which there are several each term are subject to dress codes, timing and guest restrictions, details of which are made known to members well in advance. Guide to formal dinners can be found here.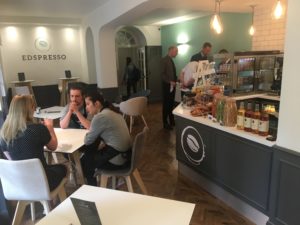 Opening Times:
Monday – Friday
11:00 – 18:30
Located in the Norfolk Building, just past the main Reception and turn right.
Serving barista made coffees, selection of teas and cold drinks.
Fresh food platters to order. Take away sandwiches, rolls & wraps. Freshly prepared boxed salads and other snacks available.
Debit cards accepted.
St Edmund's College students may use their KMB credit for purchases in Edspresso.
Dietary Requirements
The College will seek to respond to the needs of members with special dietary requirements. Vegetarian options are routinely available, while other special dietary requirements should be discussed in the first instance with the Catering Manager, who will try to prepare appropriate meals if this can reasonably be arranged (though the College cannot guarantee to fulfil all individual requests). The College should be informed if a member has a serious food allergy; this should be discussed immediately on arrival with the member's Tutor and with the Catering Manager, who will be able to advise on the ingredients and labelling of College meals.