The library is our students' favourite spot to read, study, contemplate and relax.
The library is open 24 hours a day.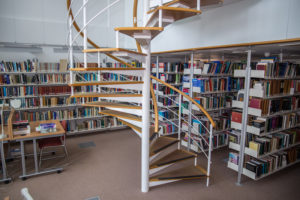 College Library
St Edmund's College Library print holdings can be accessed via  iDiscover the online catalogue, offering a way to search library collections across the University.
In addition, there is a wealth of information on your subject, databases and study skills on the LibGuides page, and a set of resources for UnderGraduates & PostGraduates on the CamGuides page.
Suggestions for print purchases may be made by emailing the College Librarian
librarian@st-edmunds.cam.ac.uk
Students living offsite who need to request essential electronic books not currently available, can do so via the University Library or their Faculty/Departmental/College Librarian.
There are also a number of excellent links to aid study and research here:
Access to electronic resources such as e-books; e-journals; a wealth of databases;
Online form for requesting/recommending e-books;
Help for accessing electronic legal deposit publications which are normally only available at the UL/departmental libraries;
A virtual helpdesk
College Library Staff: